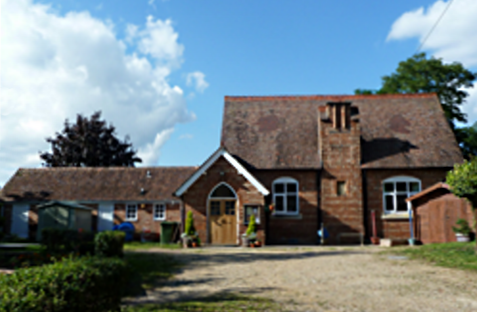 The Old Schoolroom in Charlton is an historic building set behind the local church. Both buildings were made available to the community by Henry Workman. The schoolroom is managed by a trust set up by Joseph Baker Workman, Henry's brother. The trust is a registered charity (Number 203745). See the full history of The Old Schoolroom on a separate page of this section of the website.
In term time the building is used mainly by Charlton and Cropthorne Pre-school. Avonvale cubs and scouts meet each Wednesday evening; Charlton Parish Council meets on Thursday evenings on a bi-monthly schedule; Charlton Chattery, a social gathering for tea and chat, meets on the third Friday of the month from 2.30 to 4.00pm; on the Sundays of church services the room may be used afterwards for refreshments and fellowship. Village events such as the Country and Christmas Fayres also make use of the building and its garden. There is of course room for negotiation on using the room at some of these times.
This unique venue is available to hire for parties; performances; fund raising events; commercial sale events; meetings and classes.  With a pleasant garden lying between the schoolroom and the church there is suitable space for outside seating, a gazebo or children's games.  The building has a fully fitted modern kitchen with dishwasher, cooker, fridge, microwave and plenty of crockery and cutlery.  There are 2 toilets.  Tables and chairs are also available.  The room is licensed for up to 60 people seated.
Current hire charges:
£8 per hour (short hire)
£25 per half day (3 hours plus)
£55 per full day (discounted, based on around 8 hours)
Electricity is currently charged through a metered system. This covers heating and appliances. Lighting is not charged.
For further information please contact the booking secretary:
Elaine Hawley – 01386 860420